Among some of the book adaptations to hit the screen this year was one of New Zealand's own, Māhana. Taking its storyline from Witi Ihimaera's novel Bulibasha: King of the Gypsies, it weaves a narrative of family rivalry and coming of age. While the movie might not have caused as much excitement as news of Fantastic Beasts, or The BFG, it's always a thrill to see New Zealand books take their turn down the cinematic walk of fame. The likes of Whale Rider and Once Were Warriors have become Kiwi household names, but New Zealand's flourishing literary tradition means there are other adaptations waiting behind the wings. Here are some of the lesser known ones to excite Kiwi book (and cine-) worms:
Kaitangata Twitch, 2010
An adaptation of Margaret Mahy's book of the same name, this television series follows the adventures of a young Māori girl, Meredith, as she and her local community try to fend off the developer who has plans of transforming their small island. Thrown into the mix are the tension of the growing quakes (the "Twitches") and a mysterious missing persons case from the past. While the television series does stray from the narrative of the book, the main supernatural themes are still intact, as is Meredith's journey of discovering herself, and her island's past.
Ruia Taitea: The World is Where We Are, 1990
This short documentary focuses on the early life and works of New Zealand's first female Māori author, Patricia Grace. Viewers are treated to anecdotes of the author's childhood, her writing process, and her identity as a Maori. Spanning almost an hour, and including short dramatizations of some of her works, this documentary is an exciting window into Grace's mind, and a must watch for all fans.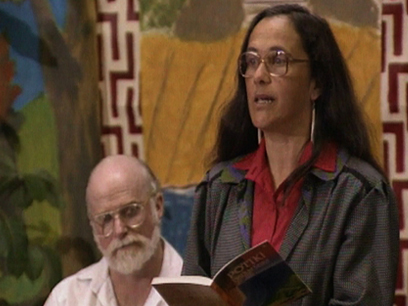 Sons for the Return Home, 1979
Adapting Albert Wendt's 1973 novel of the same name, this film chronicles the love story between Sione, a young Samoan man, and Sarah, a young palagi woman. Hailed as an autobiographical work, this novel was the first of its time to focus on the Samoan experience. The film adopts a lot of its main themes, exploring interracial romance and conflicting identities. While the episodic events of the book translate somewhat jarringly to a nearly two hour long film, its cinematography and content make it well worth the watch.
Leave All Fair, 1985
The film is set thirty-three years after Katherine Mansfield's death, with her now aged husband, John Middleton-Murray discussing his wife's work with his assistant Marie. Marie, who is reviewing some of Mansfield's old correspondence, finds that Middleton-Murray has not been entirely honourable in publishing some of his late wife's works. The film prompts discussions of authorial power (and lack thereof), while exploring Mansfield's intentions in regards to her work.
Let us know what your favourite kiwi book to screen adaptations are.